Balsamic Chicken Breasts with Roasted Sweet Potatoes and Broccoli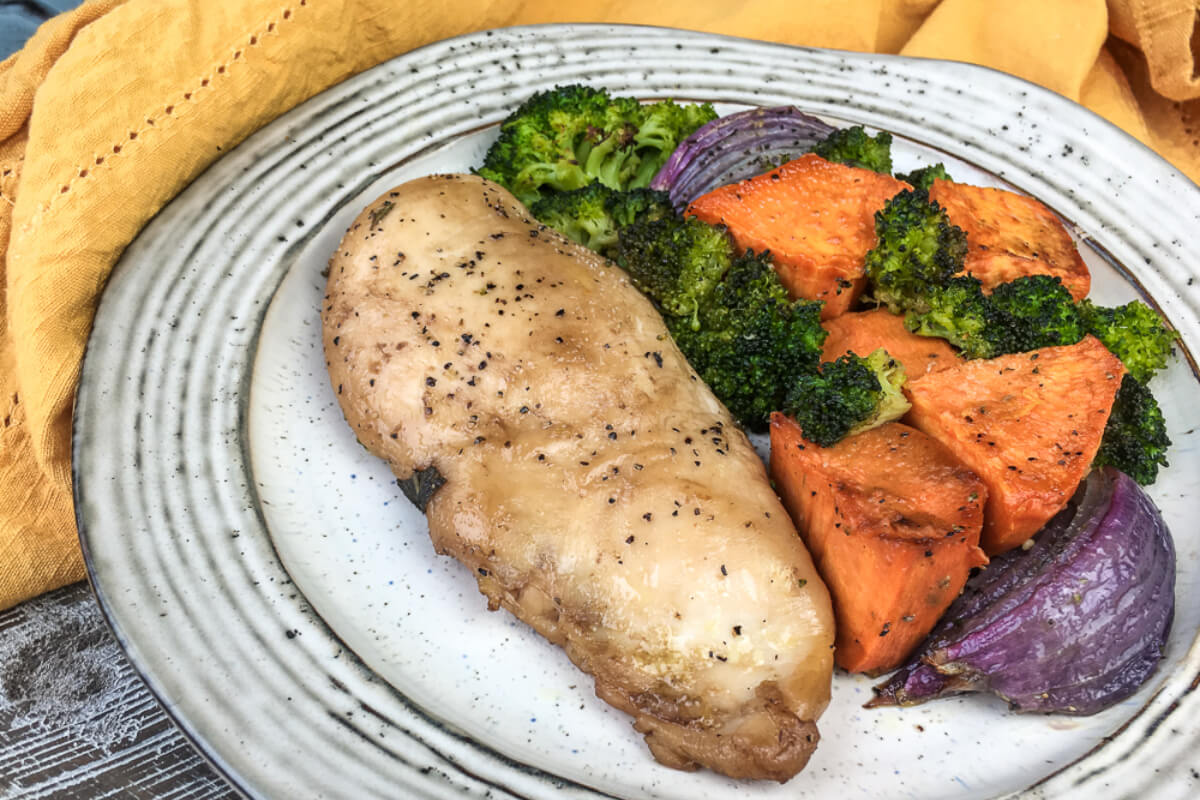 Notes
* Add time for marinating.

Ingredients
½ cup balsamic vinegar
½ cup extra virgin olive oil, divided
1½ Tbl. pure maple syrup
2 tsp. orange zest, preferably organic
3 Tbl. fresh orange juice
3 Tbl. fresh thyme leaves
1 Tbl. fresh sage, finely minced
4 4-oz. boneless, skinless chicken breasts
2 large sweet potatoes, peeled and cubed
1 12-oz. bag frozen broccoli florets
1 medium red onion, cut into thick slices
1 tsp. onion powder
1 tsp. garlic powder
Sea salt and black pepper, to taste
Instructions
Add the balsamic vinegar, two tablespoons olive oil, maple syrup, orange zest, orange juice, thyme, and sage to a medium bowl. Season with salt and black pepper, to taste, and whisk to combine. Set aside.
Place the chicken breasts in a gallon-size freezer bag and pour the balsamic mixture on top. Squeeze out excess air and seal bag tightly. Carefully turn bag to ensure the chicken is evenly coated and marinate at room temperature for 30 minutes or place in the refrigerator for one hour to overnight. Turn bag occasionally while marinating for more even distribution of flavors.
To prepare, place top oven rack in center position and pre-heat oven to 400°F. Line a large, rimmed baking sheet with parchment paper or a Silpat® baking mat and set aside.
Remove chicken from marinade and place on prepared baking sheet and generously season with additional salt and black pepper, if desired. Discard bag and any remaining marinade.
Toss the sweet potatoes, broccoli, and red onion in a large bowl with the remaining olive oil, onion powder, and garlic powder. Season with salt and black pepper, to taste, and arrange the seasoned veggies around the chicken breasts in a single layer without overcrowding.
Place the baking sheet in the pre-heated oven to roast until the chicken is fully cooked through and the veggies are fork-tender and starting to brown, approximately 20-25 minutes. Remove from oven and cool slightly before serving.
Nutrition Facts
Balsamic Chicken Breasts with Roasted Sweet Potatoes and Broccoli
Serves:
Amount Per Serving:
Calories

465

% Daily Value*
Total Fat

18.73g

28.8%
Saturated Fat

3.52g

17.6%
Trans Fat

0g

Cholesterol

36mg

12%
Sodium

605mg

25.2%
Total Carbohydrate

58.85g

19.6%
Dietary Fiber

7.7g

30.8%
Sugars

22.88g

Protein

15.75g
Vitamin A

395%

Vitamin C

76%

Calcium

19%

Iron

26%
* Percent Daily Values are based on a 2,000 calorie diet. Your daily values may be higher or lower depending on your calorie needs.
© 2021 The Recipe Cookbook
---
---